Growing up, I didn't understand what it meant to be in worship and learn to love Jesus because I was always in Sunday School, or we didn't go to church. This, along with the family dynamic changes during the Covid pandemic inspired me to make the choice to create a space where children could learn about Jesus, how to love Jesus, and also take part in the pieces of worship we love so much. It's toward the back of the sanctuary, near the lovely mosaic collage. 
Growing in God's Grace: A family space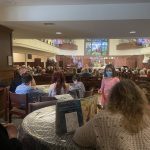 For the parent who needs a minute to sit down alone and be fed to the parents who want to learn alongside their children, for the parents who no longer have kids at home and want to be around the joy that fills the space, we have a space where all are welcome. Sometimes it is chaotic, and crazy…(we do try to be somewhat quiet)…. Just know that when you hear that excitement it is for Jesus and all the ways Jesus helps us grow. Sometimes we get loud when we sing too, but it is because we are so excited about how Jesus talks to us through music, and through the stories we le
The Grace Space invites children, youth and families into a space where they can be themselves, and have an element of play, to show them that Jesus loves us as we are, and that we can grow by watching all of you worship too! That is how we will learn to love worship and see the love of Jesus the most! 
What exactly happens in the space?
This space has evolved into a place where children explore lots of different things. We do something called "praying in color," or sometimes we do something symbolic, like letting things go. We might create something that is uniquely them. And there is space also to just be. So, come as you are…we have space for you! 
Help us out!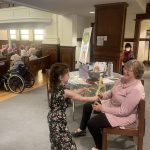 If you are interested in volunteering in the Family Space, we are always looking for volunteers. This space has been so meaningful to me, as I have gotten to watch the joy during a song while reading music in the hymnal,  or on the screen,  or the excitement of being baptized, or a child learning to do something for the first time, and even silly moments where laughter is the only thing we can do.
I am a believer in worship. And I believe that one adult can make a difference in the life of a child. How about you? 
Erica Kozlowski
Director of Children and Youth Ministries