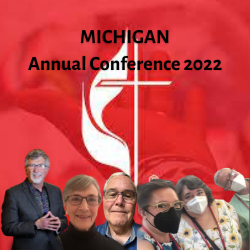 For as long as Methodists have been a faith group in this country, there have been annual meetings, the "Annual Conference" as it's called, for the purpose every year of inspiring leaders, setting new vision, and deploying clergy to all the churches. I recall taking our daughter to college in Philadelphia years back and, while there, visiting the oldest Methodist Church in the city. There on the hallway wall was a copy of a letter to all the Methodist clergy gathering in that city for their Annual Conference, signed by George Washington (yes, that George Washington)!
Nowadays, the Annual Conference is part inspiring worship, part celebration, part lofty presentations, part business meeting where legislation is debated and passed, part pastoral challenge by our gifted bishop, David Bard. This year, an important piece of legislation passed at Conference is the Church's response to gun violence in our culture. Six months after the village of Oxford,
Michigan, experienced the tragic school shooting that killed four students and injured seven others, our Michigan Annual Conference voted overwhelmingly to take action to address the rise in gun violence. Rules were suspended to allow action on the resolution calling for specific actions, including participation in the End Gun Violence Now movement, contacting legislative leaders regarding enhanced background checks, and reinstatement of the ban on assault weapons.
Following the approval of the resolution, Bishop Bard prayed, "out of a deep peacefulness of heart, may we create a more peaceful world for us all." CLICK HERE to watch a quick overview video of high-points of this year's Annual Conference, held in early June at Grand Traverse Resort.  Then, please read on to hear the key take-aways from Central's lay delegates, and what each found meaningful at this year's Conference.
Amber Hassler
After being on Zoom for two years, I fully appreciated Annual Conference being in-person this year! Over 1500 Michigan Methodists in one room is energizing to both the mind and soul. Laity and Clergy alike raised voices to sing about moving from Mourning to Dancing in new and unexpected ways, the harmonies created were a perfect example of how each of us has a different approach to similar situations. The mourning of social and denominational changes doesn't disappear, it turns into dancing. We hold space for resiliency, we honor the space that each other need.
James McKimmy (not pictured)
What leadership our Bishop has displayed.  He has the capacity to include everyone without offense.  His humility was a constant example for everyone to follow in accepting the ideas and concerns set forth is the discussions.  The worship services were very meaningful to me Rev. Bell stimulated the thinking about Post Tramatic Growth opportunities.
Bob Blackmer
During a break-out session we discussed how "Leading During COVID" affected our congregations, and what we have learned. Terms included flexibility, patience, listening to the needs of the congregation, being ready to re-set when change forced us to act, the need to collaborate with others (staff and volunteers), staying grounded and take care of one's self. Finally, Now What? Rebuild, make space for new ideas, possible new risks so proceed with diligent thought, celebrate the new things that have come out of COVID.
Nan Horstman
A couple items of note: Our Linda Stephan is a conference leader! I was so proud of her and impressed by her thoughtful and articulate contributions to legislative sessions and panel discussions. And, she can dance! (During worship and memorial.) While there are fewer churches each year, due to closings and disaffiliation, and the challenges of a separating denomination hang over us, and there is mourning, there is also reason to dance and celebrate the many ways the Michigan United Methodist Church ministers and reaches out to include all. As an example, it was gratifying to see that an openly married lesbian was ordained during the conference.
Tara DeGroot (not pictured)
This was my very first conference.  I had thought I was just overly fortunate to land in a church that would so warmly embrace me.  A few years ago, news that Methodists were splitting over the issue of LGBTQIA inclusion, left me thinking that Central was happily unique and not representative of a sadly ambivalent denomination.  When I was asked to attend the 2022 Michigan United Methodist Conference, I was afraid I would be a unicorn with everyone staring at me.  But while Central is still unique, perhaps it is not quite as unique as I had imagined.  As it turned out, I was hardly the only unicorn.  There was an open welcome felt from all.  I felt Christ's uncompromising love connecting us all in his loving purpose.  Bishop Bard was so very warm, and his sermon was so meaningful.  At times it was hard work, but I honestly hope I am invited to represent the Church in the future.
Eldon Horner
Annual conference was a wonderful experience for me. Opening worship, with uplifting music and an inspiring sermon set the tone for the work to come. While the plenary sessions could get tedious, I was moved by the way people felt the freedom to speak out so passionately for and against the resolutions before us. There were definitely moments of divisiveness, but the overall feeling I came away with was one of unity. As a body, the Michigan conference is united in its stand for inclusiveness and social justice. I last attended annual conference around ten years ago, and my, how things have changed. I also want to express my gratitude for Bishop Bard's leadership throughout the conference and maintaining a sense of grace in the body, enabling all to speak freely and openly regardless of their view.
(Pastor Chris here) I am encouraged by the direction of our United Methodist Annual Conference. Despite our denomination soon to be dividing into two paths, we are listening to God's Spirit, and we are resilient to find new ways of offering the inclusive love of Jesus Christ to our culture and neighbors in this time and place. I'd like to give Bishop David Bard the last word here, as he spoke at opening worship along the biblical theme of God's ability to turn our mourning into dancing. "All of our churches should be dance halls dancing to the unforced rhythms of grace, to the unique time signatures of God's spirit."
Grateful for the dance of ministry we share at Central,
Pastor Chris
(You can hear more archived footage from this year's Conference at MichiganUMC.org)
(Pictured L to R: Pastor Chris, Nan Horstman, Bob Blackmer, Amber Hassler, Darcy Dewling- district lay delegate and Eldon Horner)