Be the Spark!
We're a big congregation with multiple worship services, so you may or may not know Jay Bearup. He is often in the back of the sanctuary, his beautiful young daughter, Win, crawling around and swaying to the music. She adds so much joy wherever she is present! 
Win was Baptized in the park this past August.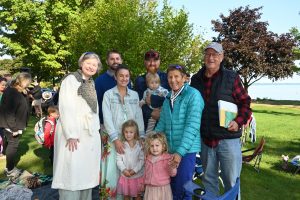 Jay is an auto mechanic and, not only that, he has a special desire to make sure people who don't have a lot of extra income have a safe and affordable car to drive. He also loves his craft. You should hear this man talk about what it takes to do a truly well-honed brake job. To listen to him is to understand there is an element of auto mechanics that is high art.
Not being mechanically inclined myself, I can only imagine what it must be like for Jay on those occasions where the job is tough and the outcome is uncertain and you twist the key and sense, for the first time: ignition! SPARK!
Surely, it must be like the women who quietly funded Christ's ministry, as he traveled the countryside with a band of unemployed fisherman spreading the good news and fostering just the smallest beginning of what is today a worldwide movement of Christ followers who believe in the powerful force of God's love in the world!
Perhaps it's how the little boy felt in a crowd of 5,000 hungry people, the one who was willing to give up the lunch he'd packed, his five loaves and two fish, to see Christ multiply his gift so that no one would have to leave hungry. 
Maybe it's like Joseph, not the father of Jesus but the other one, long before. He was left for dead, then enslaved and imprisoned before becoming an interpreter of dreams, Joseph would save the world from famine with the help of his faith and some shrewd common sense – working one day at a time for years until the plan slowly came to fruition.
This is a season where there is much heartache. We are seeing exceptional numbers of people at Central Outreach as we care for those in our community without housing in the midst of an ever-growing housing shortage. We pray for the children of wars and conflict zones in several parts of the world. At the same time, we welcome new families among us who are ready to start a new chapter here, in Traverse City. Only last week we welcomed our latest family from Ukraine, making sure they have comfortable beds to sleep on, toys to play with and a well-stocked pantry. And the Dolly Parton Imagination Library this month receives a major grant to partner with Sunrise Rotary and Munson Hospital to invite every mother giving birth at Munson to sign up for free books to start their babies reading early. That's a program that began with a few passionate members of Central that has exploded far beyond our doors.
What we can SPARK always comes from our work together – worshiping, praying, visiting, befriending one another, listening to the needs we see, vision casting…and most of all – believing we can make a difference, together. Believing God has a purpose and a plan for our common lives. Believing we can BE THE SPARK!
This time of year, we at Central take some time in worship, and in private prayer, to consider how we can be part of the financial legacy of the ministries of Central. This is not the church 'asking for your money.' Far from it. God loves a cheerful giver, and so do we. But I would be lying if I didn't say that we can do more when we give passionately and live generously and SPARK hope in the heart of downtown Traverse City. And so I do encourage you to give as you are able and with great cheer and to believe that, together we at Central can be a beacon of light and spark of hope for one another and the world.
In this season, members will be receiving a pledge card in the mail.  You may also access the online pledge card here.
Please prayerfully consider your commitment as we shape our ministry budgets for 2024. 
Pastor Linda