Central SPPRC Leaders Look to the Future
It's been exciting in the past few weeks to hear so many people express excitement and hope for the future of Central Church and our ministries. As we celebrate Pastor Chris and all he's done to build the church in faithful witness, we also anticipate a wonderful season with Pastor Linda and Pastor Joan. Members of our Staff-Pastor Parish Relations Committee had the first chance to meet with Pastors Linda and Joan and to hear about their gifts for ministry. They want to share some of the reasons they're excited about the Bishop's decision to invite these two pastors to serve.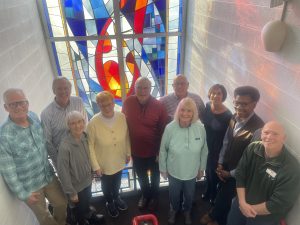 2023 SPPRC Team (L to R): Rick Venner, Jay Berger, Dee Miller, Karen Roeper, Bob Blackmer, Wes Bara, Carol Larson,
Ann Porter, Paul Sinclair, Bob Barone. Not pictured: Sarah Wessels
What was the committee's first reaction to Pastor Joan's new appointment to Central, and to Pastor Linda being asked to lead the congregation?
From Bob Barone: Excited for the future of Central.  Excited for the skill set and capabilities that Pastor Joan will bring to the congregation.  Excited to have her talent and abilities here at Central and that those abilities will complement Pastor Linda's abilities. 
From Karen Roeper: As a participant in Central's choirs, I have had a long-distance view of Pastor Linda. Only after becoming a member of SPPRC this year have I become aware of her strong administrative and leadership skills. She is dedicated, logical, passionate about her ministry and, most importantly for Central, forward-thinking. Throughout my higher education career I had often been the only woman in the room, so I am very pleased to think that one day we will add the portrait of a female minister to the long wall of former ministers on the third floor.
It's interesting that even so, I had an initial reaction of surprise to the idea of two women pastors. I suppose I've been programmed to have that reaction: throughout probably 50 of my years I have been exposed to only male ministers, mostly male doctors, lawyers and scientists,
and mostly female teachers and nurses. Thank goodness times are changing! Our country as a whole seems to lag behind the world in acknowledging the leadership skills of women. My experience has demonstrated to me that women can balance many objectives and get things done in an understanding, caring and team-oriented way. I am pleased to be a part of a reconciling congregation that welcomes and supports both Pastor Linda's and Pastor Joan's talents.
From Jay Berger: My first reaction was – Wow! Joan and her spouse were willing to drive over 2.5 hours in a blizzard to meet with our committee and they are thrilled to be serving at Central. It was obvious Pastor Joan is committed to making a positive impact at our church and in our community. Through our introductory meeting we learned that Pastor Joan and Pastor Linda have a mutual respect for each other from work they've done together over the past several years. Their skill sets appear different but complementary.
My second reaction was – Will there be push back from the congregation having two female pastors leading Central? I know there wasn't an issue with two men leading Central so the question itself made me wonder if I had some internal biases I needed to think about. My conclusion was our church needs to "lean in to" being leaders in our faith and in our community. Central is a different church and having two female leaders is different but hopefully in a good, open, loving and accepting way that will help our church prosper.
From Ann Porter: The SPPRC committee was excited to meet our next associate pastor and received Joan and her wife with anticipation for the future paired with a little reservation around two women leading our congregation. As discussion continued around the many talents and gifts both Linda and Joan bring to the table as well as the years of experience, education and energy they both have for Christ and what that looks like lived out at Central, any anxiety was quickly dispelled. The core values of Linda and Joan are synonymous with Central's and I believe their leadership will continue Central's legacy of "open hearts, open minds, open doors."
As a further blessing, Central has a large collection of retired male pastors that have made the beautiful Traverse City region their home. This group has not lost their passion for their God and have always been willing to share their stories and be available for sermons, leading groups and outreach opportunities. Central will continue to offer these opportunities, so for those needing a stronger male presence, the community is there for the taking.
What are some of Joan's gifts that she will bring to ministry at Central? 
 From Sarah Wessels: I believe Joan will bring a calm presence to our congregation and her musical gifts will uplift our already wonderful music program at Central. I think her experience and leadership from her other appointment in Grand Rapids and professional experience will help Central grow and reach beyond our doors in the Traverse City area which is what we need to continue reaching out to our neighbors in the community.  
Notes from the committee:
The Bishop and Cabinet felt that Pastor Joan would be a good fit for Central: 
She is passionate about music (played the clarinet professionally).

She gives very strong sermons (did so at CUMC October of 2022, many present remembered). 

She is calm and generous; "plays well with others." 

Pastor Joan is good at teamwork and collaboration; can augment Central's mission oriented approach.

She is on JFON's Michigan Board.

She is reconciling and inclusive.
Have you learned things about Pastor Linda through your work on the committee that the congregation might not know?
From Rick Venner: As the church moves forward on the backside of the Covid pandemic, Linda arrived to Central at an opportune time. As a member of the SPPRC committee, I found Linda to have an uncanny talent for picturing and implementing important structure to our programs including updated and needed policies. Two examples come immediately to mind, restructuring the educational program and shifting Central to a much more updated  technological platform. This is on top of her already outstanding preaching. It's wonderful that our Bishop recognizes her multiple talents and offered her a lead role.
From Bob Barone: Her efforts to update and modernize Central's website (not yet launched).  She is focused on content that's important to tell Central's story to the outside world. Also, the work she does with the staff to help them with goal setting and help them realize their own unique abilities and enables them to surpass their potential. 
How do you think Pastors Linda and Joan will work as a team? 
From Wes Bara: I think Pastors Linda and Joan will likely work extremely well together. I sense complementary skills and compatible visions. I have observed Pastor Linda's determined efforts to improve communications both internally, between and among our staff, and externally through our website and other media. She exhibits both long-range and "big-picture" vision as well as strict attention to the myriad details that keep our children safe. Pastor Joan fits perfectly into our reconciling efforts to connect to and embrace those in our community seeking to belong to a lovingly accepting group of believers. Both Pastors are independently strong individuals that can lead and /or follow and collaborate as the situations require.
Overall, in all of this, what gets you excited about the future of Central Church as we  prepare for this transition? 
From Sarah Wessels: I'm not sure I am able to fully put into words how excited and thrilled I am about this new pastoral team. I have full confidence in both Pastor Linda and Pastor Joan to lead us in the coming years. They bring valued leadership abilities and will complement each other's strengths beautifully. I grew up in the United Methodist church in the 80s and 90s and only saw male pastors throughout my childhood in Iowa. When I first came to Central in 2006 in my twenties it was refreshing to have a female pastor. Now, I'm so excited the Bishop has appointed two female leaders in our church. I'm thrilled my kids have had a variety of different pastors throughout their childhood whom we have been able to lean on and learn from. We as a church are showing our young kids and youth that not only a certain person can serve, lead and care for our congregations in the United Methodist church. All are welcome in our church and this diversity can only strengthen our relationships between one another, between our Traverse City community and neighbors and strengthen our own faith. 
Some questions asked of Pastor Joan and Pastor Linda:  
Do you think there will be a problem with two women pastors?
Pastor Linda:  We have many retired male pastors as part of our congregation that we can call on to be in the pulpit from time to time. 
Membership is declining, the congregation is aging.  Was your Grand Rapids church

able to attract new people?
Rev. Joan:  It was the same in Grand Rapids. We asked hard questions and knew we had to take a different approach.  We worked for nine months on a multiracial, multicultural, LBGTQ program.  We had 250 at the first gathering. Then, of course, COVID hit.  
How would you go about your ministry with youth?
Rev. Joan:  For example, getting them invested in the mission and outreach of the church.  My wife has worked with a lot of troubled youth for 17 years.  Plus we have had four foster kids.
Please plan to join us Wednesday,  April 26 at 6:00 p.m. in the Sanctuary for a special opportunity to meet and greet Rev. Joan and hear more about her call to ministry and her vision as she prepares for her ministry at Central Church. CLICK FOR DETAILS.