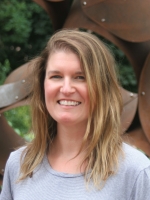 Lucy DeKorne has served as the Nursery Director at Central since the summer of 2019. She and her family moved from San Diego to Traverse City in the early winter of 2019, and brought with them a love of the outdoors and an enthusiasm for finding an inclusive, progressive, and missions-focused church home. Since establishing themselves as members/employee at Central, her family has grown with the addition of another daughter, and both children love to play in the nursery, enjoy the Heroes class on Wednesday night, and help Lucy at work. Lucy's background is in social work, and she has a passion for providing families with young children with resources and a community in which they can thrive. Lucy's favorite memories are of camping and snow-shoeing in Yosemite National Park, and she loves hiking with her husband and two children.
The central mission of the nursery ministry is that all families feel safe and loved.
Within the nursery, we help children ages 6 months through 5 years to learn about God's love by using free and collaborative play, arts and crafts, games, and music. Faith formation is central to the mission of the Nursery Ministry, and we encourage children and families to ask big questions, and see themselves within the stories of the Bible. The nursery ministry also seeks to provide resources when possible, including within the church's Children's Library collection, for families to learn more about God's love, their place in the world, and ways they can live out God's love in their own lives.
It takes a big team to make all of this possible!  Our staff relies on many key volunteers to give our kids and families the best possible experience while at Central on a Sunday morning, a Wednesday evening or for a Special Event like Parent's Night Out.  Below is a list a ways that volunteers can help! If you think you might be a good fit for any of these opportunities, or you would like to stop by and visit us in the nursery, please
contact Lucy
to set up a time to chat!
Volunteer needs:
Wednesday evenings: (5:30pm- 7:15pm) Volunteers assist staff to make sure kids have dinner/healthy snacks, read them stories, play, etc.
Sunday mornings: (8:45am- 10:15am and 10:45am- 12:15 pm for worship services)  Volunteers can help for just one service, or for both!  Ways volunteers can help: reading stories to children, helping with crafts or snacks. Nursery staff will do all diaper changing/bathroom help.
Wednesdays/Sundays  ("on-call" list) If there's a last minute emergency and a nursery staff member is unable to work, having a list of a few folks who would be willing help in a pinch would be extremely meaningful.
Special events: Parents Night Out on the third Friday of each month (5:15pm- 8:15pm) Volunteers come 15 minutes early and stay 15 minutes late to help with set up and clean up. Opportunities to help are:  getting kids their dinner (usually pizza and fruit), water cups filled and distributed, and then cleaning up dinner. Help run a craft or game station. Help in the nursery with children ages 6 months through 5 years old.