Children's

Ministry (for children entering K-5th grades)
Welcome to Children's Ministry at Central Church, where we are reaching beyond our doors and learning to be more like Jesus. We welcome everyone with open arms and are excited to meet new friends this year! We have a few different opportunities for children to grow in their faith journey and hope you will join us to explore. Celebrate Wonder is our new Sunday curriculum this year, and we will celebrate wondering about everything from how God created the Earth, to how He chose us to be great at what we are, to the birth of Jesus, and so much more. We want to cultivate in our children that it is great to ask questions and to want to learn more. We will learn using the Celebrate Wonder Storybible, science, music, crafts, cooking and more. We are also always looking for volunteers to assist us in growing in faith with our children. There are so many opportunities to join together and make a difference in the life of a child! Please contact Erica to learn more.
Note: Due to COVID-19 restrictions, all classes and groups are currently meeting via ZOOM.  For more information on any of the opportunities listed, email Erica Kozlowski, Children's Ministry Director.
CHILDREN'S EDUCATION/SPIRITUAL GROWTH
Sunday Program (K-5th grades)
Meets Sunday Mornings AT 10:00 a.m. VIA ZOOM
2019-20 Theme: CELEBRATE WONDER
This year we will learn to cultivate wonder in our children and to grow together in curiosity. We will learn about main themes each month: Creativity, Faith, Blessing, Joy, Include, Guide, Remember, Share, and Act in Love. Each theme explores stories to help us learn and grow by asking BIG Questions. We will use many different learning styles to grow together this year. Lots of hands on fun this year!
We are also introducing the Bitmoji classroom which is the hub for all things Children's Ministry on Sunday! You will click on different items to learn more. If you click on my avatar you will hear a message from me, a song when you click on the guitar, the bulletin board to go to the new Parent Resource Board, the Sunday School lesson for the week on the Theme (i.e. Creativity for the month of September) word, the Children's Message on the whiteboard, and more. I am excited to grow in this technological way with you! Please email Erica with any questions.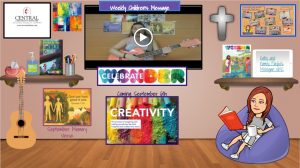 CHECK OUT OUR CHILDREN'S MINISTRY BITMOJI CLASSROOM NOW!
---
Nursery Ministry (for infants and preschool-age children)
Welcome to the Nursery Ministry at Central United Methodist Church! Our mission and purpose echoes that of our church's: Being together in Christ, while reaching beyond our doors. We are excited to grow in Christ through our relationships with each other and with Him. We are also continually learning to be good neighbors and stewards to those beyond our doors, and are thrilled to be making new friends. This year we are energized by teaming up with the Children's Ministry in our series: Celebrate Wonder! Each week we will be exploring the Bible and it's place in our lives through a lens of Wonder. The sense of wonder our children have about the world around them has a special application in their faith life, and is a natural way for them to begin asking the big questions and explore their identity as God's children. 
INFANT CARE/SPIRITUAL GROWTH
In an effort to prioritize the health and safety of our young children and their families, the nursery is closed until the end of October 2020, at which point staff will re-evaluate a plan for re-entry to in-person meeting.
At this time, we will be engaging in our Celebrate Wonder series via videos and posts to our website, Nursery Ministry Facebook Page, and Bitmoji classroom. Through those sites, you will also find other resources for information about homeschooling, mental health, hand-washing and mask-wearing tutorials, information about our favorite books and games, and much more.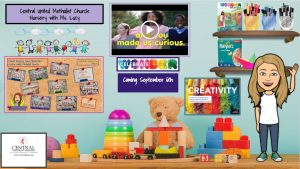 CHECK OUT OUR NURSERY MINISTRY BITMOJI CLASSROOM NOW!
Once we are able to re-open the nursery safely, we will engage in our Celebrate Wonder series through songs, crafts, story-telling, creative play, and so much more. We welcome new friends to join our Nursery community, and once the nursery re-opens, we will be looking for volunteers to help care for and teach our children. We are so thrilled that you are here, and together we can positively impact the lives of children within our church and in our greater Traverse City community. Please contact Lucy to learn more.