Wow! $14,420 was raised during Lent 2023 to support JFON-MI's mission of providing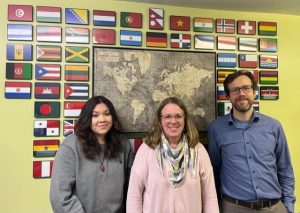 free immigration legal services to neighbors in northern Michigan communities!
In the last week the donations just kept coming in. The generosity of Central Church's
congregation has once again crushed our fundraising goal. Without our host church and
all the ways you support us, we would be unable to do our work serving clients like
Tetiana and Olesia who's story is below.
With deep gratitude,
Alline Beutler
JFON-MI Development and Communication Manager and Regional Liaison
On February 25, 2022, Olesia and her mom, Tetiana, raced to accompany their 14-year-old cousin/nephew
back to his home in Poland. He had come to Ukraine to apply for a passport, and during his visit
the tensions between Russia and Ukraine escalated. Chaos ensued after Russia invaded Ukraine.
As curfew was being instated in their home of Kharkiv, they had only a few hours to prepare to leave.
Thinking they would be able to return home soon, they packed only their cat and enough clothes
for three days. For 15 hours, they traveled by train from the east to the west border of Ukraine
along with enormous crowds of people fleeing to Poland.
Fighting to stay together in the commotion, they finally boarded a train out of the country.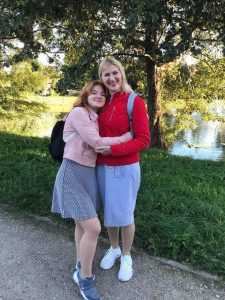 During the difficult trip, they were pressed up against other passengers for the eight-hour ride
to Poland. Though they couldn't move, they were relieved they had been able to squeeze onto the train together.
Before fleeing Ukraine, Olesia was a university student studying biology, and Tetiana was an
English teacher for grades 5-11. For nearly a year after they arrived in Poland, Tetiana and Olesia
worked in a community center and a restaurant, doing their best to support themselves while
living in tight quarters with family. Any extra income was donated to the Ukrainian armed forces
or used to help those still in Ukraine.
Nearly 30 years ago, Tetiana had been a high school exchange student living with a host family
near Flint. After Tetiana returned to Ukraine, she stayed in touch with her host mom and host sister,
Nancy and Jeannie. After the war broke out, Jeannie frantically contacted Tetiana to see if
her family was safe. During their ongoing communication, Jeannie offered to sponsor Tetiana
and Olesia in her Traverse City home where she had space for a basement apartment. Although Olesia
was upset about traveling still further away from her homeland, she was excited to meet Jeannie
and her family after hearing so much about them throughout the years.
After Tetiana and Olesia accepted the invitation last fall, Jeannie contacted the JFON-MI office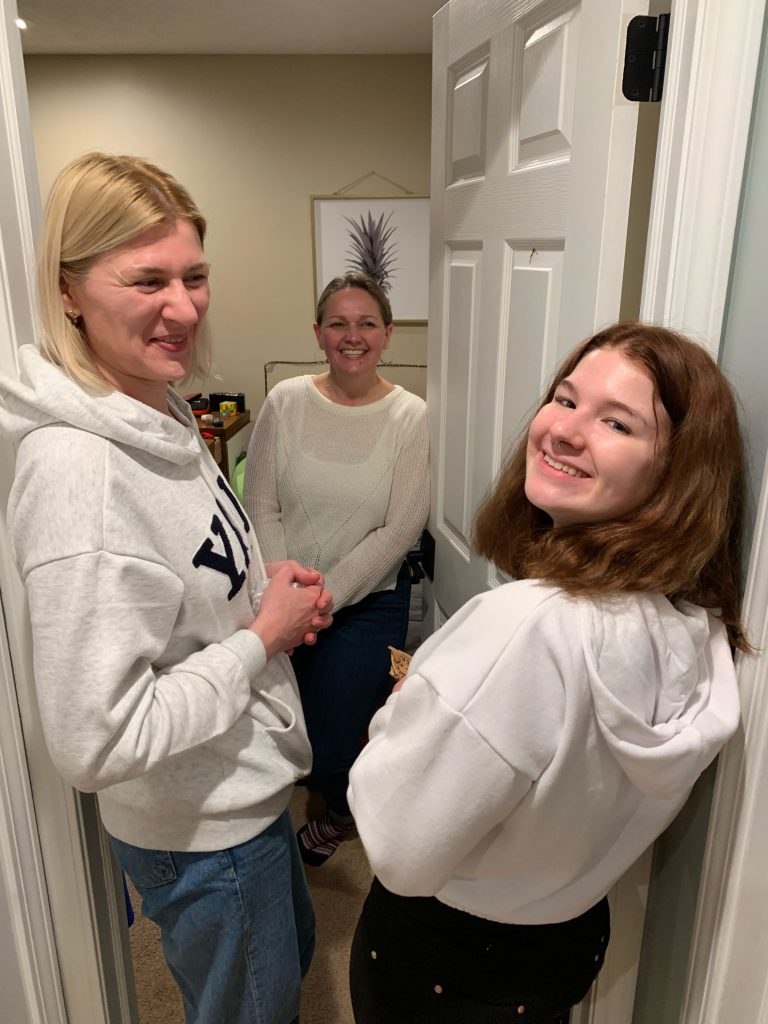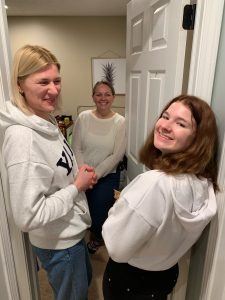 in Traverse City to seek help with the sponsorship process through the Uniting for Ukraine program.
Everything moved quickly, and on January 12, 2023, Tetiana, Olesia, and their cat Knopa traveled
to the U.S. On the flight to Detroit, Tetiana cried tears of relief that they would have a safe place
to stay with people they knew and loved. Arriving in Traverse City, they were welcomed with open arms
by Jeannie and her family and friends.
Once in Michigan, Bethany Christian Services helped them settle in their new home,
and JFON-MI attorney Marcelo Betti completed the paperwork for their work permits.
At Michigan Works, Tetiana learned about a job opening that fit her skills.
Now she helps other people navigate the process of finding work,
including other Ukrainians arriving in northern Michigan. Hired to help in the kitchen
at local coffee shop Mundos, Olesia has already received a promotion and enjoys her job and colleagues.
The trauma of leaving their home in Ukraine over a year ago has caused nightmares, insomnia, and sorrow.
Olesia and Tetiana are deeply grateful to Jeannie's family for the generous hospitality and care they've
provided during their displacement. Looking forward to the day they can safely return to Ukraine, they've already
made plans to host Jeannie and her family to proudly show them their country that they so dearly love and miss.