Thank you, Central Church! We had a great kick off to our Justice for Our Neighbors
Michigan (JFON-MI) fundraising campaign and have already raised $1,700 toward our
$10,000 goal! This support helps us serve more northern Michigan neighbors in need of
immigration legal services.
This spring we continue to serve clients from Ukraine who fled their homes in search
of safety after the war began last year, as well as clients coming to us from countries
around the world with a variety of different immigration situations. Your support
helps to make our work possible!
The U.S. Immigration system is very complex. Consequently, immigrants, refugees, and
asylum-seekers rarely obtain the legal immigration status for which they qualify unless
they have an experienced immigration attorney. The United States Citizenship and
Immigration Services can take months or often even years to provide a decision.
JFON-MI legal staff maintain a connection to clients for as long as it takes for their
cases to be resolved.
Frequently, multiple cases are opened for one client. Some are filed simultaneously, or
others are submitted over the course of many years. Angelia's story illustrates how
JFON-MI legal staff maintain a working relationship with clients and supports
them on every step of their immigration journey.
Angelia originally came to northern Michigan on a temporary work visa from her home in
Jamaica. During her employment, she began a relationship. When her work in northern
Michigan ended and Angelia returned to Jamaica, the two stayed connected long
distance and ultimately decided to marry.
After the wedding, Angelia reached out to the JFON-MI office in Traverse City to seek
guidance with applying for a green card. The initial green card is valid for two years and,
at the end of that time, JFON-MI legal staff assisted the couple in removing the
conditions of Angelia's residency and extending her employment authorization.
Three years after marrying a U.S. citizen, Angelia was eligible to apply for citizenship.
She returned to JFON-MI once again, this time for support through the naturalization
process. In 2022, Angelia was proudly sworn in as a naturalized citizen. Taking her oath
of citizenship seriously, she is now serving in the active-duty U.S. Army.
Each client comes to JFON-MI with their own story and our legal staff helps them
understand their options and navigate the U.S. immigration system. Most of the services
we provide fall under humanitarian or family reunification immigration cases. Click here
to learn more.
Without the support of Central Church, JFON-MI would not be able to provide these
needed services to immigrant neighbors living in the Traverse City area and throughout
northern Michigan. Please help us reach our $10,000 fundraising goal this Lent! Your
gift will help increase our legal assistant's hours so that we have the capacity to
assist more neighbors. Our services are in greater demand than ever.
On Sunday, March 12, meet Alline Beutler, Development and Communications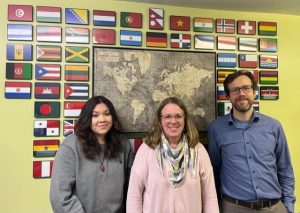 Manager, Lesli Rojas, Legal Assistant, and key JFON-MI volunteers after the 9:00 and
11:00 services in the Gathering Space. Also plan to join us in the Lounge on March 19
after the 9:00 and 11:00 services for questions, answers, and conversation about
JFON-MI in an informal setting.
Donations can be made at https://jfonmi.kindful.com/ or by using the donation envelopes
outside the church offices or on the JFON-MI information table on Sundays.
THANK YOU for your important support!
Alline Beutler
Development and Communications Manager and Regional Liaison
abeutler@jfonmi.org