From being racially profiled to becoming a U.S. citizen- Eduardo's story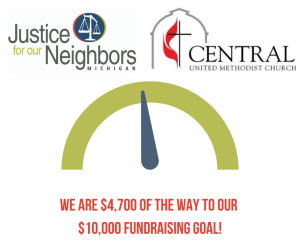 Wow! Thank you, Central Church! We have now raised over $4,700 of our $10,000
fundraising goal during Lent! This support helps us serve more northern Michigan
neighbors in need of immigration legal services like Eduardo.
In 2018, Eduardo, his wife, and brother-in-law were victims of an unlawful traffic stop
and racial profiling in Traverse City. They were pulled over for loud muffler although a
ticket was not issued. Eduardo and both passengers in the car cooperated with law
enforcement, and the traffic stop was resolved.
Instead of being free to leave, they were detained on the side of the road while another Michigan State Police officer,
who was patrolling with a U.S. Border Patrol agent, was summoned to the scene. After extensive questioning
by the Border Patrol agent, they were eventually released. No justification or explanation for the detention was given.
Originally from Mexico, Eduardo felt they had been unfairly treated because of the color of their skin.
He filed a discrimination complaint with the help of the American Civil Liberties Union (ACLU) of Michigan
and the Michigan Immigration Rights Center. Eduardo's story is one of thousands logged by the two organizations
in their ongoing investigation into widespread racial profiling by U.S. Customs and Border Patrol agents in Michigan.
Attaining citizenship was Eduardo's dream, but it seemed a nearly impossible goal to reach.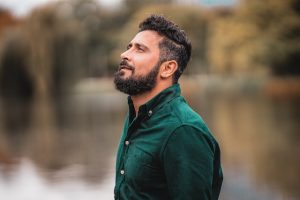 Though he had been a legal permanent resident of the United States for more than 30 years,
he is illiterate and thus unable to read or write in his native Spanish or English.
This added a significant challenge in preparing for the civics exam, a necessary step in
the process to become a naturalized citizen. Eduardo was not deterred. With the support of his family,
he studied the practice questions verbally until he felt confident that he was ready to take the exam.
Though many obstacles stood in the way of Eduardo becoming a citizen of the United States, his perseverance is commendable, We celebrate that he took the oath of citizenship in September 2022!
Without the support of Central Church, JFON-MI would not be able to provide these needed services
to immigrant neighbors living in the Traverse City area and throughout northern Michigan.
Please help us reach our $10,000 fundraising goal this Lent! Your gift will help increase our
legal assistant's hours so that we have the capacity to assist more neighbors. Our services are
in greater demand than ever.
This Sunday, March 19, you can meet Alline Beutler, Development and Communications Manager,
Lesli Rojas, Legal Assistant, and key JFON-MI volunteers after the 9:00 and 11:00 services in the Lounge
for questions, answers, and conversation about JFON-MI in an informal setting.
Donations can be made anytime at https://jfonmi.kindful.com/ or by using the donation envelopes
outside the church offices or on the JFON-MI information table on Sundays.
THANK YOU for your important support!
Alline Beutler
Development and Communications Manager and Regional Liaison
abeutler@jfonmi.org