After the United States set a deadline to pull the last of its troops from Afghanistan
in August 2021, news reports showed thousands of desperate people storming the airport
in Kabul in the final weeks. They were desperate to get out rather than remain under
Taliban rule.
Ehsan and Nilab Sahab were among them. Now settled safely in Traverse City, where
they've been building a new life since arriving in May, they recall a harrowing-turned-rocky
journey that began when the troop withdrawal was announced.
Ehsan, 40, and Nilab, 32, had married in 2008, a pairing arranged by their parents.
They went on to have four children as Ehsan was employed as a radiology supervisor in a
series of hospitals. In 2017, he made the transition to become an English interpreter when
coalition forces needed such services from people with health care background and
knowledge. As an interpreter, he worked in medical centers and in the field, sometimes
going along on combat missions.
"I saw a lot of bad things," he says. "I experienced a lot of hard times."
Ehsan hid what he was doing from relatives and neighbors, telling them only that he
worked in a hospital. He feared retaliation for supporting the forces that were fighting the
Taliban and what that could mean for him and his family if word got out.
"I was part of the team fighting against the Taliban," he says. "We brought and put
them in jail. If they catch me, what if for no reason they kill me?"
Then came August 2021. When the Taliban came to power on Aug. 15, Ehsan knew
he had to get his family out before the last coalition forces would leave Aug. 30.
"Everybody was trying to get out of Afghanistan," he says. "Thousands of people
rushed the Kabul airport. I went three times with my kids, but couldn't get a chance to go
inside."
With the children — Yousra, now 13, Arsalan, now 10, Hamza, 6, and Mahsa, 4 — it
was too dangerous to try and get through the swarms of people when the youngest two
had to be carried in arms at that point. Day and night, Ehsan was consumed with finding a
way out of the country.
"I didn't sleep, I didn't eat, I didn't drink," he says. "I just called on the phone, text
messaged, talked with friends in the same situation, at the same time. But thanks from
God we got a chance."
It came when the South Korean government made arrangements to get about 83
families — some 400 Afghanistan citizens — out, including the Sahabs. Still, it was touch
and go. They divided into smaller groups, going to the airport a few times. But they
couldn't make it inside. Finally, his group realized if they could get on a bus, they might
have a better chance than being on foot.
"It was impossible with kids, with ladies, to pass through that much crowd," Ehsan
says. The U.S. government provided a bus on Aug. 23. The Sahabs boarded with the others
around 4 p.m. that day and sat overnight on the bus until 5 the next morning.
"It was hot, there was no food, no water," Ehsan says. "A couple of times the Taliban
came on the bus … but the Korean government gave us documents."
Finally, they were inside the airport, reaching a coalition forces checkpoint.
"Then we felt OK we are safe, when we saw the coalition forces," Ehsan says. "There
were no Taliban in the airport. Then at another checkpoint, the Korean people were
waiting for us. They gave us water, snacks."
After a few hours, the Sahabs were on their way — South Korea.
"I was crying but water wasn't coming from my eyes," Ehsan says. "My head was
crying — leaving my brother, my parents. Everybody was leaving their job, their life, their
house. I left my car, my house — everything. Now we started from zero."
The Sahabs spent nearly four months in dormitory-style housing in South Korea before
they relocated to Fredericksburg, Virginia. Because Ehsan had been working with U.S.
coalition forces and had a spotless record, he was eligible for a visa.
In Virginia, all six of them lived in a one-room basement apartment. There was no clear
way to get the children in school or otherwise improve the family's living situation. They
were basically in limbo until Ehsan connected with an Afghan friend who had relocated to
Traverse City.
Enter Karen Segal. A former diplomat who relocated to Traverse City with her husband
a dozen years ago, she had been involved in helping settle a few other Afghan families in
the community including the friend Ehsan was in touch with. She also had been working
with a committee headed by Pete Clapp at Traverse City's Grace Episcopal Church that
wanted to sponsor an Afghan family's move to the area.
"It didn't take me long to reach out … trying to convince Ehsan and his family, 'Why
don't you relocate here?'" she says. "It was a big leap on Ehsan's part because he didn't
know me, he didn't know Traverse City, but he did know (his friend)."
She and Clapp continued to talk with the family on the phone and Facetime, and
Ehsan grew to believe they might be able to thrive in Traverse City.
"We borrowed a van from Central United Methodist Church, which is part of this
committee," Segal says. "Two individuals from the committee jumped in, drove out to
Virginia, picked up and brought Ehsan and his family here in May of this year."
The family lived for a few months in a house that a Traverse City couple made available
at no charge. Two of the kids attended summer school to help catch up after not being
enrolled since they'd left Afghanistan.
The Sahabs moved one more time before settling into their current place west of
Traverse City about two months ago. While their youngest child is still at home, the older
three are attending school and all of them are learning English at an amazing pace.
Nilab's English is also coming along as she spends time with friends including Debbie
Rough and others who visit to have conversations that help build her English skills. She's
also an avid cook, and recently prepared an Afghan meal for Rough and a few others.
"They talked and shared a little bit about their story," Rough says. "It was really a
cultural sharing opportunity."
Meanwhile, Ehsan has been working in the radiology department at Traverse City's
Munson Medical Center and has obtained a green card. They enjoy socializing with the
few other Afghan families in the area as well as the people they've met who volunteered in
one way or another to help them get settled.
And things are slowly falling into place.
"I'm very happy my kids are in school, and come home with a smile," Ehsan says. "I'm
so proud, my kids have a nice and bright future."
Still, it can be bittersweet. They are far away from home. While they communicate with
family back in Afghanistan on WhatsApp or Facetime — nothing that the Taliban could
trace — Ehsan worries about them as they suffer economic and other hardships under the
current regime. Besides missing her grandparents and aunts and uncle, 13-year-old Yousra
feels bad that the girls who are her friends back in Afghanistan can't go to school.
After coalition forces departed, the Taliban ended up barring girls from attending
classes after the sixth grade. "I'm so sad they're not going," she says, explaining
how she would like to become a doctor when she grows up.
As Muslims, there's also no place for them to worship in Traverse City.
To observe one official holiday, they traveled to Lansing where there is a large Muslim
community. Ehsan knows his family isn't alone in having to start all over again in the U.S.
Friends he worked with in Afghanistan have settled all over the country — and like him,
feel lucky for it. He tries not to dwell on what they've lost and instead focuses
on everything there is to be thankful for right now.
"The good thing here is there is a lot of possibility," he says. "The house is warm, the
car is warm when you go to work. There are no issues — no problem with the municipality
cleaning the roads. There's no traffic jam… no checkpoints.
"We hope to stay safe, healthy and at peace. We hope to be a representative of the
real Afghanistan here … to be part of the community."
By Kathy Gibbons, reprinted with permission from the Traverse City Record-Eagle,
December 25, 2022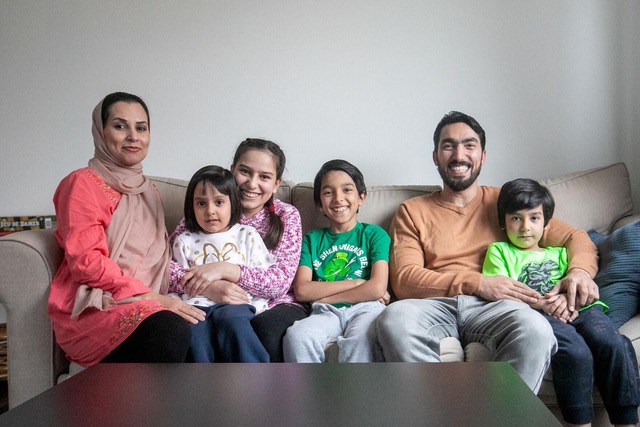 From left, Nilab, Masha, 4, Yousra, 13, Arsalan, 10, Ehsan and Hamza, 6, Sahab have lived in
Traverse City for a year after leaving their home in Kabul, Afghanistan. "At least we are safe, said
Ehsan. "My kids, they have a bright future." Photo by Record-Eagle/Jan-Michael Stump