When talking about giving to the church, we use the word "stewardship."  Stewardship says that all good things are gifts from God, "on loan" to us and for our use.  God intends that we use our gifts, our talents, and our time to bless others and make this world a better place.  When we are generous in giving we too feel blessed and a part of the good ministry that happens at Central Church.  The church can not accomplish all it does without your generous gifts.  The best and fairest way to gauge our gifts is through percentage giving.  The scriptures hold up the standard of 10% of our income, known as the tithe.  At Central Church we encourage people to build up to a tithe gift.
How do we do this?  Look at your annual giving and see what percentage of your annual income it equals.  Is it 3%, 5%, 8%?  For most of us, we're not yet at the 10% level.  Know the percentage you give, pray about your giving and seek God's leading.  If you are currently giving 4% of your income, can you raise it to 5%? Or from 6% to 7%, or from 8% to 10%?  The goal us to give our best to support the vital ministry that happens through Central Church.
Every year in the fall, we ask our people to provide an "Estimate of Giving."  It is an estimate which can be changed (up or down) as one's circumstances change.  This enables the church to make a responsible ministry budget for the coming year.
Estimate Your Giving 
Take advantage of our online e-Giving. The chart below will help you see your options and make a faithful decision.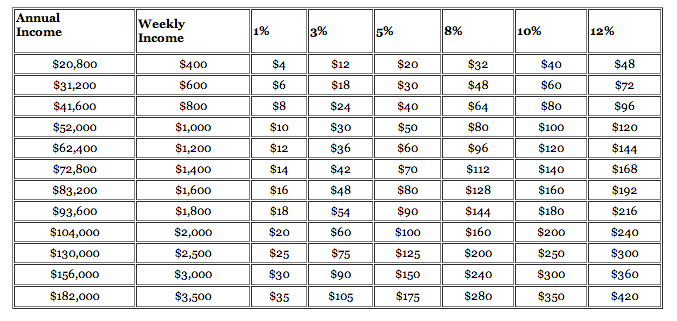 Donate
You can make a commitment with an online donation. It is safe, secure and only requires a credit card.   Online Donations coming soon.  You may also give through EFT (electronic funds transfer) Automatic Direct Payment Program.  Learn more about ways to give and what your gift does.