Why are you not morose?
"When you're pursuing happiness, you're not going to find it. It's very, very elusive."   –Anglican Archbishop Desmond Tutu
One of our small groups has recently been reading The Book of Joy, about two incredible spiritual leaders who have spent their lives advocating for freedom for their people: Archbishop Desmond Tutu and His Holiness the Dalai Lama. The Archbishop asked his friend, who hasn't seen his homeland since 1959: "Why are you not morose?"
---
"Many people look at you and they think of all the awful things that have happened to you. Nothing can be more devastating than being exiled from your home, from the things that are really precious to you. And yet, when people come to you, they experience someone who has a wonderful serenity…a wonderful compassion…a wonderful mischievousness—"
"That's the right word," the Dalai Lama added. "I don't like too much formality."
"Don't interrupt me," the Archbishop elbowed back."
"Oh!" The Dalai Lama laughed at his reprimand.   (The Book of Joy, p. 32).
---
There's a film of this encounter, too, and you get to see how they laugh and joke with each other. At heart, they really are just joy-filled goofballs. I love seeing this side of these two. We already knew they are powerful leaders who know how to make change happen. They also show us how joy is a natural part of each of their lives, despite the difficulties of leadership and their constant awareness of suffering. The key, they say, is to not avert our eyes to suffering. If happiness is all you pursue, it will be hard to find. But seek justice, seek compassion, seek to change the world, and your joy will follow. 
In other words, live the life God has truly called you to, and find yourself alive. 

I would never dare to compare myself, but I would with all my heart emulate. If you've seen me on Sunday morning, you know my goofy side. I love worship – the holiness and the chaos, the playfulness and the reverence of the gathered community. I love to dance with abandon with The Well and to bask in the beauty of choral anthems to our God. I love the tender intimacy of the small gathered community in the early morning chapel, too. 
But the joy of worship is not what is created in the moment. It's not an emotional high like a drug might be. Instead, it's the outpouring of your spirit with my spirit in the gratitude that comes after a week, a season, a year, a life of serving, giving, loving, reflecting, and leading.
This is what makes my worship powerful with you: it is the work we do together through the week, the mission and ministry together in Christ…reaching beyond our doors.  It is our shared passion for the world. 

Our faithfulness to include all those who want to be included, and to make strides to change ourselves, and how we do things, to make that happen.

Our desire to be a sanctuary not just for Sunday worship or for our membership, but for those who need access to immigration legal aid, basic medical and addiction care, warm food, a heated building, resources for permanent housing, and more.

Our commitment to growing our own awareness of the world and of our God, whose heart bends in loving care toward the world: our study and reflection and mission together. 

Our love of the youngest, as we raise kids and teens to love worship, to have a sense of community and identity in Christ, teaching our youngest how we are designed in the image of a loving Creator who has plans for us that lead us toward joy.

Our willingness to advocate together for broad, systemic change on key issues, including ending gun violence and advocating inclusion.
All of this work can be overwhelming at times. And yet it culminates in our Sunday joy! It does make me giddy, and I'm sure you see that. I am overjoyed and overwhelmed with the opportunity to spend my days in this work with you. It is not always easy, I will admit. In fact, it rarely is. There are lots of jobs I could do that would earn better money or an easier life. But I believe, with all my heart, this is the life God has truly called me to. And so I find myself alive.
So this letter is my thank you for the ministries of Central Church. This is my thank you to Jane and Chris and Dale for looking at me when I was running a radio station and telling me, in no uncertain terms, that they thought I should be running a church! This is my thank you for welcoming my giddy self and all I bring with such open and willing hearts—both when I arrived as your associate, and as I take lead in July.
This is also to remind us that the work will be hard. I won't always be everything you need or want me to be.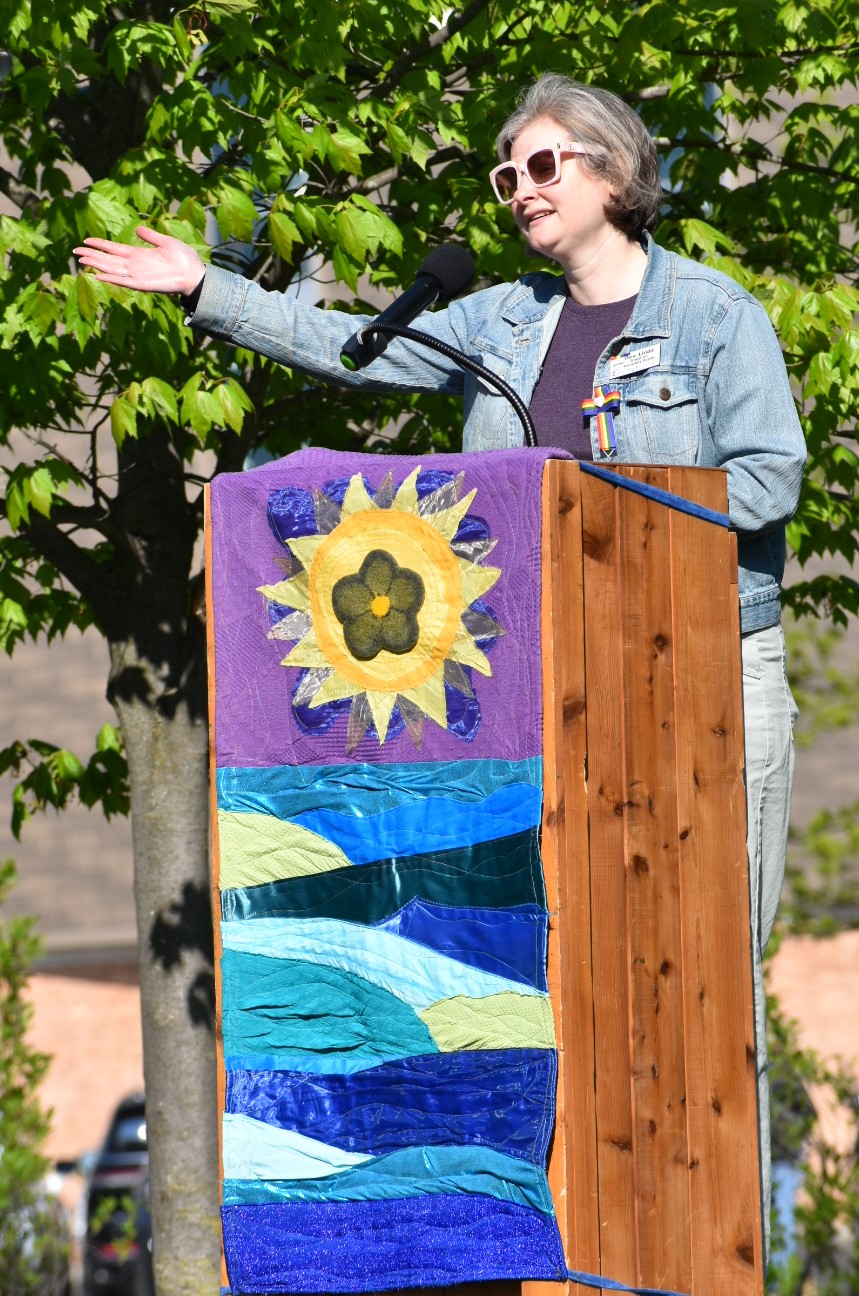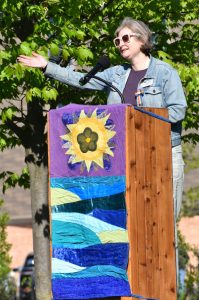 Community is messy. Sometimes we will disagree. I can't promise to reach perfection. I can't even promise to be the best pastor you've ever had. I follow some really good ones. All I can promise is that I will be the best pastor I can be. And I will find my joy in our work, together. I will laugh with those who laugh, celebrate with those who celebrate, mourn with those who mourn. And I will help us to lead into a future of service and joy, together. 
Thanks be to God for this life, this people, and this shared ministry in the heart of Traverse City.
Pastor Linda