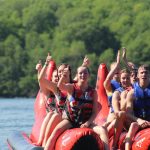 YOUNG & STRONG & GOD-SEEKING
Nothing we ever do to affirm a young person is ever wasted!
I am fresh off of a week helping lead a kayak adventure camp for our UMC conference. There was plenty of fresh air, hikes over mountains, deep conversations around the campfire, and the beauty of Lake Superior. Our group lived in intentional Christian community together for a week. It was a safe place for high school youth to wonder about God's dream for their life. It was also a large swath of unplugged time where our entire group had space to hike & paddle & gaze at a night sky in silence, taking in the breadth of the Creator's "green scriptures". Our theme looked at the life of Moses from the bible, and how God invited him onto the Hero's Journey – out of his predictable life & into a great adventure where he would be tested and challenged, but ultimately grew in ways that served others and blessed his community. It was a powerful week where each of us stretched our stamina, supported one another, & shared a faith life in conversation, singing and prayers.
I'm thinking this summer about how core it is for the church to offer spiritual formation experiences for our youth, to challenge them to be engaged in a life of faith & good works. After all, by the age of 12, most people have begun to ask the big existential questions about the meaning of life. The problem is – we are an over-stimulated plugged-in culture. Studies show how a young person's brain with a high constant exposure to video games can be deprived of the "luxury of boredo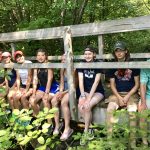 m" w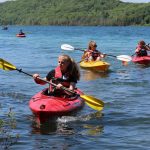 hereby some forms of creativity & wonder can only then be accessed. READ MORE HERE
But here at Central Church, we attempt to offer many quality, unplugged, faith-centered experiences over the summer months where young persons can be in a supportive, sometimes wacky, community while considering that God in Christ desires to be in relationship with them.
I would like you to hear from a couple of voices in our church who work with our youth.
First is Marla Gerber, advocate for youth & a leader in Christian camping. In June she led 5 of our youth, plus many others from across the state in the Holy Ground Camp held at Lake Louise. Here is what she noticed –
I thin
k what hits me most is how much growth and maturity I see in the daily lives of youth as they are immersed in Christian community. Many youth who come to camp don't have any faith experience or mentors to draw from at home. Others come from solid Christian homes where faith practices are the norm, but not personally relatable to the youth. When given the time and space to practice spiritual disciplines, the youth I work with have been amazed that the emptiness they often feel is filled by love for others and Jesus, allowing them to truly relax and experience joy. Simple things like pausing to say grace before a meal, taking time to lay on the meadow and stargaze, reading Scripture aloud, and experiencing different styles of prayer and worship creates the opportunity for authentic connections with God that can be incorporated into their daily lives after camp ends. One important aspect we incorporate as staff members is providing an opportunity for each camper to have a "one-on-one" conversation with an adult. Over the years, these conversations have been pivotal places where youth have felt free to ask those hard questions of faith, express frustrations of life, or share joys and excitement of what's going on in their lives.
Nothing we ever do to affirm a young person is ever wasted.
I would also like you to hear from Lisa Thomas, our Youth Ministry Director on staff at Central. She and her husband Dave oversee our ministries with middle school and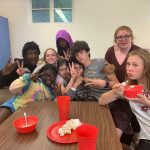 high school you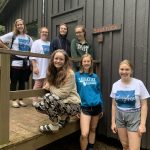 th. This is what she says about the mission trip she led in June –
The mission trip with our high school students to the Adirondacks in June was such a positive and powerful experience.  It is always so fulfilling to see the year's work with our students culminate with such an immersive service experience like this 8 day mission trip.  As one student shared with me who had never been on a trip before:  "I liked where we worshiped, and meeting all the people from other churches, and I had a cool work crew that did cool stuff to help others."  This truly was a mission trip that really connected those three concepts:  service, worship and community. 
Christian camping & mission trips with youth allows space to be active & still, to test stamina, to be in service to others, to connect the dots between vertical & horizontal dimensions of faith, plus learn to be open to other cultures.
This is the work of creating Sabbath for a rising generation. It is critical to our spiritual health to learn from unhurried space and time away. If you've not considered a UM Christian Camp for your child or teen, I encourage you to think about giving that gift to them next summer. You can see the great variety of camps offered at umcamping.org
Our high
school youth are about to "cycle out" of camps. I do not see our younger children being encouraged to attend camp. So I raise the banner asking you to consider this for your child or grandchild. Scholarships are available. Marla or Lisa or I would love to personally share with you the blessings we have seen occur at camps. And by the way, we have excellent youth group programming for middle & high schoolers all thru the school year as well.
Here's a closing image that fuels me.
It was the last night of our kayak camp. Muscles were sore. Our clothes dirty. Our bodies needing a good shower to wash off the bug repellent. But everyone leaned in close to the campfire for our closing circle. Each person took turns sitting in the one comfortable chair we brought, while we spoke our affirmations of where that particular person shined over the week. We spoke of how we saw ways God was blessing their life in all they were becoming. Then we tapped their shoulders with a balsam branch, in the way of the French Voyageurs. And we spoke this Irish blessing over each camper –
­
Take courage to live the life that you would love,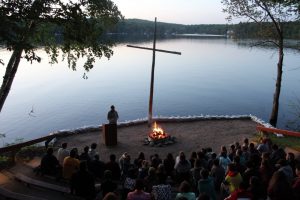 To postpone your dream no longer;
But to do the thing that you came here for.
And waste your heart on fear no more.
What a fine thing it is to affirm a young person in this life,
Chris